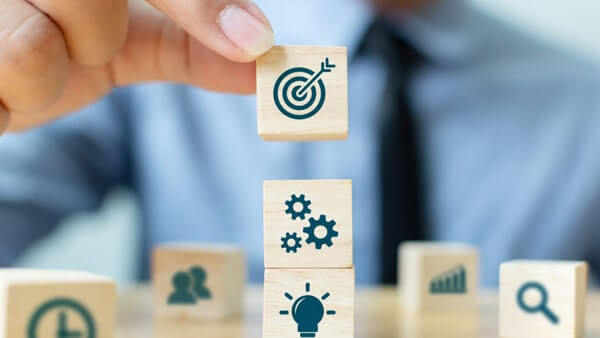 How well do you know your market, customers, competitors, and the product's performance and how it is actually being used? Conducting various types of intelligence will help drive sights to your company and is a cornerstone in the strategic activities to support informed decision-making in best practice product management. And only then, you can start to pursue competitive advantage.  This article will review how different intelligence disciplines can help you identify gaps, overlaps and issues in your product activities so your company is able to sustain a strong market position.
Intelligence this, intelligence that – no it is not all the same! 
Business intelligence, market intelligence, competitive intelligence, customer intelligence, artificial intelligence, … intelligence are all terms that are often used but that just as often are a source for misunderstanding. In particular, "Business intelligence" seems to have become a universal term that covers all. This article will seek to clarify misconceptions and explain some basic concepts and disciplines of intelligence that can help drive insights to support your strategic planning.
Surveillance vs intelligence – it is all about gaining insight
First of all, let us explain why we talk about intelligence and insights and not just "surveillance" of product activities. Surveillance is basically a term that covers the action of collecting information about the on-going. In a standard business context, this would often include, though not necessarily be limited to, surveillance of media whereby a software agent would automatically collect a pool of articles on a certain topic, e.g. a product brand or technology, based on specific search words. (In the very old days, i.e. before the mid-1990's… physical press clippings were the non-digital equivalent!)  I.e., surveillance, as such, is merely a written or perhaps graphical /video repetition of a given context of something that has happened or is announced to happen in the future.
Research or intelligence, on the other hand, is far more sophisticated in that knowledge, e.g., additional data points, and experience is used to understand and interpret the presented information. In other words, research and intelligence is enriched information that can bring insight.
Product Focus, Nevico Product Management's Partner for best practice Product Management, uses below product activity framework. It illustrates an overview of key strategic activities that outlines how different intelligence disciplines can help you identify gaps, overlaps and issues in your product activities so your company is able to sustain a strong market position. In this article, we will go behind the Insights framework and explain each of the intelligence disciplines and its origin in more detail.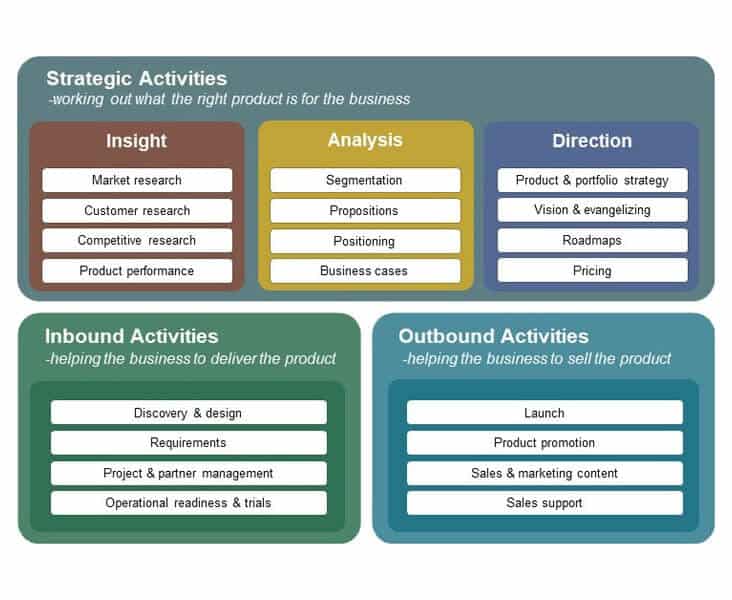 Focusing on the "Insight" framework, a number of activities are outlined. – Product Focus, Product Activity Framework™
The external and internal environments each provide their categories of intelligence
However theoretical, it is important to distinguish between the external and internal environment in which the company operates. Within these to environments there are 4-5 main categories of intelligence:
The external environment:
market intelligence, competitive intelligence and customer intelligence, external
The internal environment:
business intelligence and customer intelligence, internal
The external environment:
Market intelligence seeks to understand the micro and macro (or PESTEL) factors which influence the market. Particularly it is about understanding the size and growth as well as threat factors in the market.
Competitive intelligence deals with the competitors and the tactical, external environment. Overall: who are the competitors, what do they look like? What are their capabilities?
Customer intelligence can be split into an internal and external part, and is thus the source for ultimate mix-up and misunderstanding!
The external customer intelligence is the kind of intelligence where companies can hugely benefit from engagement with an external agency, whether an independent research consultant or a large, global institute. The external customer intelligence often provides both qualitative and quantitative information about customers' needs, preferences and wants, but may also be used for other purposes such as calculating how big the potential market is based on a particular customer type(s). It is a picture of the customer which the company immediately envisages – but which often is different than the reality portrayed in the CRM system.
The internal environment:
Internal customer intelligence is about all the knowledge deriving about the customers via the company's CRM, ERP or e-commerce system. Think about the regular reports about who the typical customers are, where they are placed, what they buy and how often they buy, through which channels, etc.
Business intelligence is about … your business – what is happening inside the business? For instance, business intelligence will tell you about which parts of the product mix are sold most often, the least, and what revenue and profit margins they generate. Sources for business intelligence are often CRM, ERP and various online systems which in many companies are gathered or partially gathered in a data warehouse.
In other words and to sum up…
Insights about the company's external environment can be gained through market, competitive and external customer intelligence. Insights about the company itself or the internal world is gained via business intelligence and internal customer intelligence.
Intelligence enablers
To enable intelligence about the external and internal environment, a number of different tools – often also called something with intelligence – exist. For example," human intelligence" (i.e. you, analysts, etc.)," machine intelligence" (for example, web crawlers and information/surveillance systems, i.e. IT creating automated information feeds)," artificial intelligence", which is about algorithms producing intelligence founded on statistics and thereby creating future scenarios based on historical patterns
Intelligence in itself will not deliver competitive advantage – only correct action makes the difference
Hopefully the above clarification has made it easier to understand the various intelligence terms. However, it is of paramount importance to understand and accept that by conducting one or several types of intelligence, whether in the internal or external environment or both – will not make a difference as a stand-alone factor. That action is merely a prerequisite to pursue competitive advantage. But to actually gain the competitive advantage where the company really stands out from the competitors and wins market share can only be achieved when the insights are used actively for making informed decisions and thus being a tool to leverage overall business performance.
Nevico Insights – here to help you!
Whether it is mapping of your current capabilities or providing implementation consultancy for future ambitions or even helping you conduct the relevant analyses, Nevico can help. Also, Product Focus, our partner for best practice Product Management offers excellent training in using the various analysis types that can help to leverage your strategic product planning.  Let Nevico help you identify where and how to achieve the biggest gains in your organizational insight capability and assist you on the journey to become data-driven .With MAXIMAL IMPACT, WITH MINIMAL INTERRUPTION to your current business activities.
Nevico is a Product Management agency that works across disciplines to build and develop our clients' Product Management through consulting and training services. Reach out at info@nevico.dk or call +45 42832829